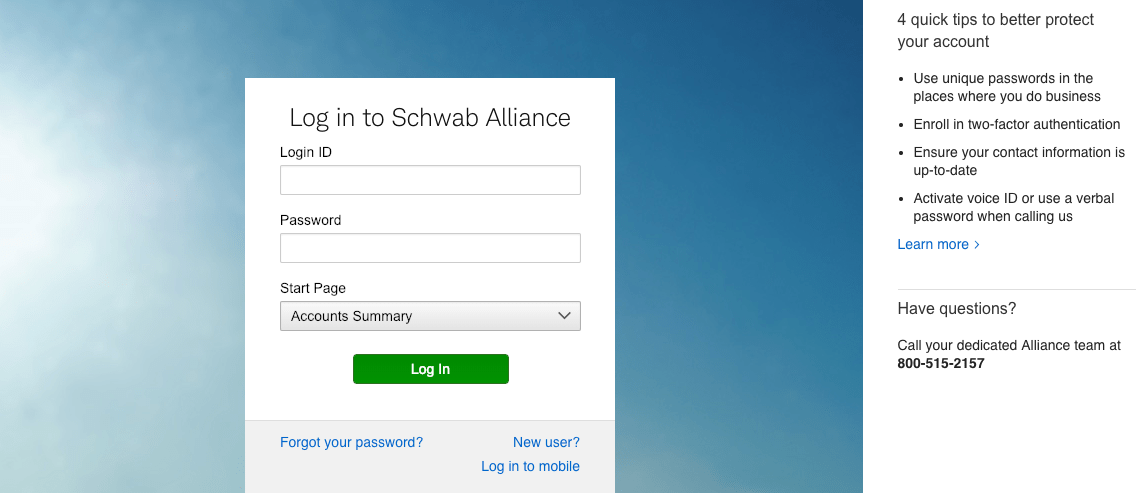 In today's technology-driven world, we have found that Schwab Alliance has brought great benefits to our clients. Schwab Alliance is one of the resources offered by our Custodian, Charles Schwab & Co. Inc. This online and mobile platform is designed exclusively for clients and the experience offers easy and secure access to their account information online or on the go.
When someone decides to work with one of our advisors, we help them set up their Schwab Alliance account access during their client onboarding. This allows our clients to:
Securely log in online, and use voice verification when calling the Schwab Alliance team.

Review account information and print statements.

Approve requests or sign forms with just a few clicks.

Offer view-only access for third-party professionals, even if they're not Schwab clients.
Not only do clients have access to their accounts on a desktop, but they can also download the Schwab Mobile app and securely access their accounts wherever they are.
One of the benefits of working with AP Wealth Management is that our clients not only have access to the Schwab Alliance specialists to help with questions they may have about their Schwab Alliance account, but they also have access to our client services team and their advisor as well. Our team is dedicated to providing excellent service and staying ahead of the curve when it comes to technology and account maintenance.
If you have questions about how to set up Schwab Alliance, you can call us directly and we'll help you gain access to your accounts through the website as well as the mobile app!

If you don't currently work with us but are interested in learning more about how AP Wealth Management may be of service to you, please call us at (706) 364 – 4281. AP Wealth Management provides uniquely crafted, personalized financial management solutions that empower our clients to ATTAIN their financial goals, build their wealth, and PROTECT their legacy.