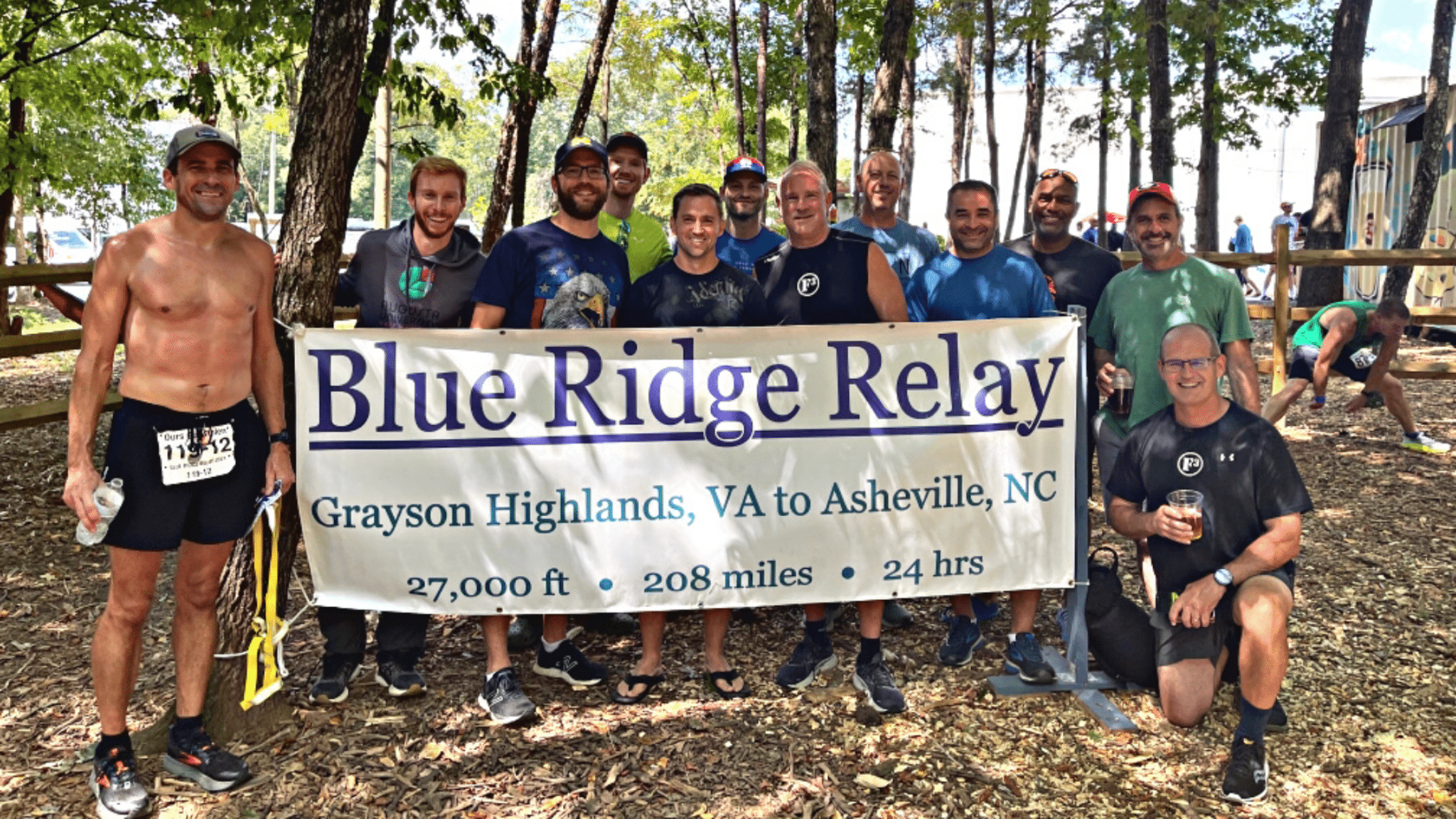 Did you know that one of the largest running relay races in the United States takes place just up the road in the Blue Ridge Mountains? It is called The Blue Ridge Relay.
I, Pat, have done this race two years in a row with 11 other guys mostly from the Augusta area.  Many of them participate in the local F3 workout groups with me.
Last year, the number of teams that participated was only about 50, but this year, there were over 140 teams that participated! And, one of the teams included Grant Fisher, one of the top distance runners in the US, who just competed in the Olympics this summer.  Fisher brought eleven of his Stanford running buddies to the race.  Needless to say, my team wasn't competitive with them!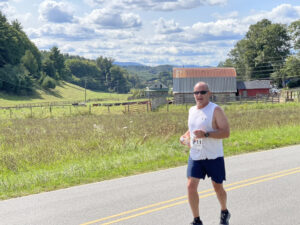 The race starts at Grayson Highlands state park in Virginia and ends at Highland Brewing Company in Asheville, NC.  It consists of 36 legs covering 209 miles.  Teams consist of anywhere between four and twelve runners.  Our team from Augusta had twelve runners so we each ran three legs with an average total of 17.4 miles run. Each year I've participated has brought with it, twists and turns. Like most adventures, it has come with many life lessons. I'd like to share a few below.
Lessons from the Blue Ridge Relay
Stay focused on your own goals, not others – Our team finished the relay in just over 30 hours; some teams took 38 hours to finish, and Fisher's team finished in less than 19 hours. Everyone's journey through life is different, you will be happiest when you are focused on your journey. If we were worried about beating other teams then we would not have had nearly as much fun. We were very content finishing in the top half of the field, knowing that we had given it our best.  Our team had a blast running our race, not trying to keep up with those around us!
Surround yourself with a great team of trusted advisors and show up on time – We tagged the next runner at each exchange point. When each of us started running our leg (which was between two and ten miles long), we trusted that knowing that our team member would be ready when we finished our leg. Each smooth exchange helped build trust among our team and confirmed that everyone was pulling their weight toward reaching our goal.  Although we were tired at the finish, our team was mentally stronger having worked together as a team.  None of us could have completed the race alone!
Pace yourself – My last leg was only 4 miles, but the first two miles were a climb of 800 feet. I was nervous that I would struggle going up the hill, and struggle I did. But I convinced myself that it was okay to have a slow time; the important thing was to get to our next runner in roughly the time to which I had committed.  We are all in different phases of life, do not rush through one phase or make it miserable just to reach the next phase!
Be prepared by planning ahead – The amount of planning that goes into this relay is truly amazing on all levels. The race organizers coordinated with multiples states, counties, and cities to get approvals.  They organized 36 exchange points staffed with volunteers from local churches, schools, and communities.  Each team (143) had to coordinate van rentals, food, gas, and drivers.  Each runner (over 1,500) had to have safety vests and lights for running at night.  The planning was very impressive.  As a financial planner, it was exciting watching it all fall into place.  It is hard to reach any finish line without planning ahead!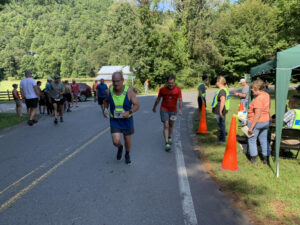 Reaching the finish line as a team felt great.  We pushed our limits, encountered unexpected challenges, and navigated the forks in the road together!  As a financial planner, the relay race reminded me of our clients' stories and journeys through life.  Every one of our clients has a different situation, each leg of the race looks a little different, each client has a different pace.  However, the most important thing for all our clients is to make sure that they "stay between the ditches", keep the finish line in sight, and enjoy the race!
Pat Fair, CFP, Partner, Financial Advisor