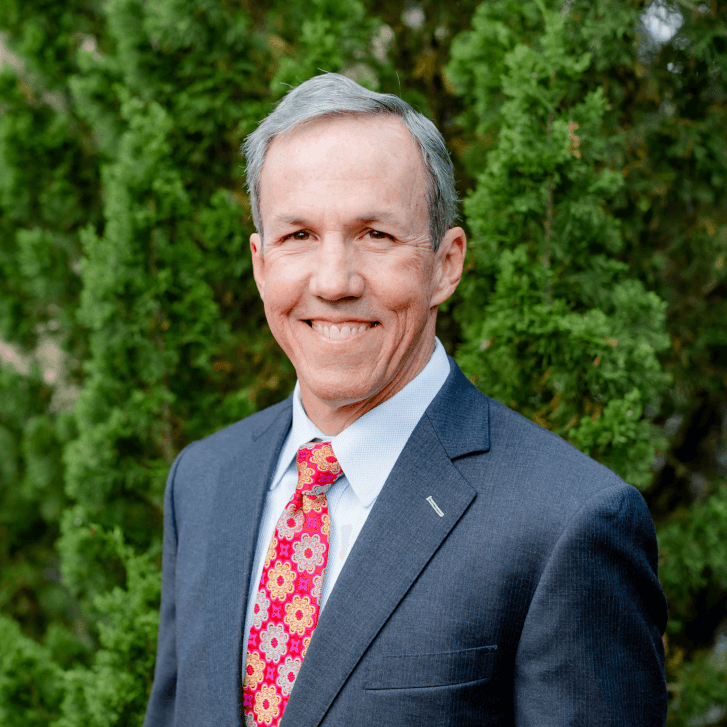 Eugene F. McManus (Gene), CPA, CFP®
As a founding partner of and advisor with AP Wealth Management, Gene serves as a fiduciary and trusted resource for the firm's clients. This means that he will always act in the client's best interest and does not have pressure to meet sales mandates or to serve any corporate initiatives. Gene and the AP Wealth team work to develop a complete financial picture using The Lifetime Financial Solution™, which is a unique process Gene developed to simplify clients' financial lives.
As a fee-only financial planner, I help clients simplify their lives. I want to know what helps them sleep well at night and what their lifetime goals are so we can eliminate risks and create a plan that helps them lead a fulfilling life.
Because of Gene's holistic approach to financial planning and investment management, his commitment to community relationship building, and his interaction with clients' attorneys and accountants, clients enjoy a truly collaborative approach to managing their financial lives. Gene will do everything he can to understand the client's financial goals, and he will work to help the client achieve each one. Gene strives to provide uniquely crafted, personalized financial management solutions that empower clients and help them attain their financial goals, build wealth, and protect their legacy.
Through twenty years experience as a Certified Public Accountant (CPA), Gene developed a vast breadth of knowledge in tax and estate planning. Utilizing this background in helping clients understand the tax implications of certain investment decisions has been fundamental to their success.
Gene believes "there is no I in the word team." "Having a strong team in place is integral to the clients' success. I also believe that most people can be good at something, but in order to be truly excellent, you need a coach. So, I work with a coach regularly to gain insight so that I can better serve both clients and the team," Gene says.
Gene is also actively involved in the George & Dorothy Walton Award – an annual award given to two individuals who as a couple have dedicated their lives to serving their community locally in the CSRA.
Gene has enjoyed the ups and downs of his career in financial planning and investment management – and doesn't ever plan on truly retiring.  He's grateful for the team and to have a strong succession plan for AP Wealth Management.  "Everyone who knows me, knows I need a 'game' to keep me sharp and involved," Gene shares. "So, I expect clients will see me in the AP Wealth office most mornings (I'm a shameless morning person!) for decades to come."
Clemson University – College of Business (1985)
Bachelor of Science in Accounting
AP Wealth Management (2011 – Present)
Managing Partner, Wealth Advisor, CPA, CFP®
Augusta Capital Investors, (2013 – 2019)
Member
LPL Financial (2011 – 2012)
Registered Representative
McManus & Sinclair Wealth Management (2007 – 2011)
Managing Member
McManus & Bone, LLP (2001 – 2005)
Partner, Accountant (CPA)
Eugene F. McManus, CPA, PC (1999 – 2001)
President, Accountant (CPA)
Strategic Coach Program
Schwab Impact Conference
Certified Public Accountant, CPA
CERTIFIED FINANCIAL PLANNER™(CFP®)
University Health System Executive Committee
Chair of Finance Committee (2017 – Present)
Audit Committee (2012 – Present)
Richmond County Hospital Authority Board of Directors
Member (2008 – 2015, 2017 – Present)
Chairman (2012 – 2015)
The George & Dorothy Walton Award 
Committee Member (2016 – Present)
Diocese of Savannah – Finance Council 
Chair of Investment Committee (2008 – 2018)
Clemson University School of Business Advisory Board
Board Member (2009 – 2013)
Rotary International, Augusta Club
Member (2017 – Present)
Boys & Girls Club of the CSRA Board of Directors
Member (2000-2011)
Chairman (2005)
National Medallion, Boys & Girls Clubs of America (2005)